Study Sessions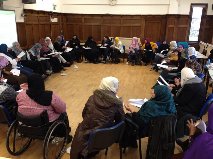 TPA runs daytime study sessions in Mitcham on Fridays from 10.15am-1.30pm. TPA hires a professional crèche during the Friday daytime sessions. See Crèche for further information. For timetable, please click here.
TPA runs evening study sessions in Tooting on Fridays from 7.00pm-9.00pm. There is an hour of social time after the session from 9.00pm-10.00pm, where a cooked evening meal is provided for those who wish to stay. For timetable, please click here.
TPA also runs study sessions on Saturdays from 10.45am-1.00pm in Central London. For timetable, please 
click here
,
TPA also runs study sessions in West London on Tuesdays from 10.45am-1.30pm.
To register for any of TPA's study sessions, copy and paste this link and follow the instructions: http://turningpointacademy.org.uk/wp-content/uploads/2018/01/Booking-Links-Term-2-2017-181.pdf
If you are a new student, you will need to make contact via the Contact page first.
Course Admission Criteria
Enrolment is free at TPA providing the criteria is met and correct procedure is followed.
The course admission criteria is as follows:
a) Convert/Revert/New Muslim women who were not born into a Muslim family
b) Non-Muslim women
We strictly adhere to the selection criteria above due to the nature of sponsorship, limited space, limited resources and TPA's Charity Commission constitution.
Dress Code
No dress code is enforced by TPA in order for all to feel welcome.
Meals & Refreshments
TPA provides a sandwich lunch for students who attend the Friday daytime study sessions and a simple evening meal for those who attend the Friday evening study sessions. The majority of food is contributed to TPA by students, staff and volunteers. We always welcome more contributors, as this spreads the workload and more people can benefit from the blessings of feeding others Insha-Allah. If you would like to contribute drinks, fruit or snacks, or be part of the day catering sandwich rota or the evening meal rota, please see the Catering Volunteering page for further details.
Guest Registration
TPA members and non-Muslim family who are not registered for the term can still attend lectures. Crèche spaces and lectures must be booked for in advance by using the Contact Form and providing full names of guests. Please do not bring or invite guests without making contact with TPA management first.
Contributions
TPA welcomes financial contributions in order to meet costs for the crèche, venue hire, printing, resources and catering. If you would like to donate, please visit the Donate Page. All donations are greatly appreciated and not monitored.
Financial Support
If you are unable to attend the sessions due to lack of bus/train fare, please complete the Contact Form stating your need for assistance. You will be asked, confidentially, to complete a short needs assessment form. TPA will do it's best to ensure no sister is excluded due to financial constraint Insha-Allah.
Course Information
Initial Consultation
Students are consulted at induction to ensure they are placed in the correct group and that teaching matches their learning requirement. TPA caters for students at all levels from complete beginners to those at advanced level.
Student Handbook
Students are provided with a handbook at induction with TPA's Code of Conduct, term dates, timetables, staff profiles, learning records and other essential information in order to help them settle in and make the most of the Academy.
Teaching Groups
At TPA, our professionally trained teachers understand that individual students learn at different speeds. Our students are fortunate as at beginner level, they are either allocated a teacher one-to-one or they are placed in a small group with other students at a similar level. Students are gently encouraged and motivated by their teachers and ultimately the pace of learning is dictated by the student.
Teaching Team
TPA prides itself in its high standard and quality and realises that its teachers are its most valuable asset. TPA delivers regular professional development in order to ensure teachers follow the Academy's ethos and deliver the teaching programmes in the most effective manner to meet the learning needs of its students. The team have produced a bespoke teacher's manual to ensure teaching is uniform throughout the Academy.
Annual Term Dates
TPA runs Friday sessions in the daytime and in evenings during school term-time only. Term dates are fixed according to local government school dates. For details, please see Calendar.
TPA's Saturday sessions run through some school holidays so please check the Calendar for details.
Termly Schedule of Presentations and Courses
In addition to the teaching programme, TPA organises a full programme of presentations and courses delivered by both on-site and visiting lecturers.
Teaching Programme
Pre-Shahadah/Islamic Awareness
We often welcome guests and regular students who are not Muslim but have a sincere interest in learning about Islam. Please do complete the contact form to book a visit if you are interested in learning about Islam and would like to meet women from different backgrounds who have converted. Our themed open days are also a source of inspiration for all who have the opportunity to attend. For more details, see our Open Day Page.
Shahadah Witness and Certification
Alhamdulillah TPA has had hundreds of sisters take their declaration of faith at the Academy. This is always a beautiful and emotional occasion and we often have non-Muslim family and friends present. TPA arranges a Saudi Embassy endorsed certificate of Shahadah.
Wudu (Ablution) and Salaah (Prayer)

Trained teachers lead students step by step through the actions of Wudu and Salaah through demonstrations and with the use of our specialist adult-centred books and multimedia resources. Students have the opportunity to ask questions for clarification.
Qur'an Memorisation/Hifz
The Stage 1 memorisation plan is followed within the session. Stages 2-4 are used as a self-study guide, where students who wish to follow the plan can do so at their own pace and then ask their tutor to monitor their progress. To see the complete memorisation plan, click here.
Qur'an Recitation Levels

Our Qur'an recitation syllabus starts with Level One, learning the Arabic alphabet and continues through to Level Eight, which is recitation of Qur'an with a high level of fluency and Tajweed.
Structured Qur'anic Tafsir (Explanation) Course
TPA runs Tafsir (explanation of Qur'an) sessions during the daytime and evening sessions. For full details, please see the schedule given to you when you attend.
Arabic Language of the Qur'an Course

TPA also runs Arabic language of the Qur'an sessions during the daytime and evening sessions. For full details, please see the schedule given to you when you attend.